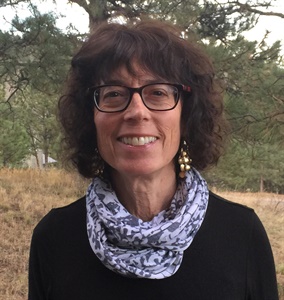 Artist Statement/Bio
My work as an artist comes from the same roots in creativity and improvisation which underlie my multifaceted career in the field of conflict management and resolution. Those shared foundational interests also include the interplay between external and internal, express and implied, conscious and unconscious, fact and feeling, and representational and abstract. I've studied with a variety of artists, including at local Colorado institutions Center for the Arts Evergreen, the Art Students League of Denver, and Red Rocks Community College. I am most interested in color and movement. My inspiration comes often from nature, including the seasonal beauty and wildlife which I encounter daily where I live in the foothills west of Denver; from conceptual ideas; from the process of exploration; and from the canvas itself as the painting progresses. Most of my current work is in acrylic paint, with some mixed media.
Events
December 3, 2018 - January 31, 2019

Featured Artist, Vista Clubhouse

Golden, Colorado

November 30 - December 2, 2018

Genesee Artisans Show and Sale

Golden, Colorado

October 20 - December 1, 2013

Pendleton Gallery

Denver, Colorado

December 7 - 15, 2012

Artful Artist's Boutique Art Show

Evergreen, Colorado
Contact
Most artwork is for sale. Prints are also available. Contact the artist for more information at: cidsavage@aol.com, or (303) 596-4304.